More Information
A number of dwarf cultivars of Bougainvillea suitable for containers or small gardens are now on the market, which means that most Queenslanders will be able to find a spot for a Bougainvillea or twenty. Look out for these compact varieties and other Bougainvillea cultivars in your local garden centre.
Dwarf forms can also be mass-planted as a groundcover in a sunny location. cut back from time to time with hedge-trimmer to keep dense. With suitable cultivar selection and training, bougainvilleas can also be grown as hedges, as shrubs or standards as well as trained up fences, trellis or pergolas. If you have a very large garden or acerage, you may consider growing one of the more robust varieties up a large tree.
While the vivid purples, golds and hot pinks of bougainvillea are synonymous with tropical gardens, the softer pastels and whites could readily be incorporated into a more cottage-style garden in hot climates as substitutes for temperate shrubs, climbers or even perennials (kept compact).
Is there a thornless Bougainvillea?
As far as I can determine, there is no Bougainvillea which is 100% thornless. Occasionally one reads of a thornless variety, only to read elsewhere that it does produce some thorns, or reduced thorns.
B. arborea, a species introduced into the US trade in the 1990s, is possibly the closest thing to a thornless Bougainvillea. While commonly referred to as such, even it can produce thorns on juvenille growth, apparently (see notes in the Virtual Tour of the AOS Garden). This species is also interesting as it's said to have a more tree-like habit of growth than most Bougainvilleas, plus fragrant flowers. Unfortunately, I don't know of any nurseries selling this plant in Australia as yet (if you do, please get in touch!).
[Update: In pictures of advanced specimens I've seen recently, B. arborea looks rather like a crepe myrtle (Lagerstroemia) in flower. If it has a longer flowering season, and/or doesn't sucker like crepe mrytle, it might be a superior substitute.]
Meanwhile, dwarf varieties readily available on the market in Qld tend to have very small thorns. With a little common sense, they can be used in a variety of landscaping applications.
More Online Information
Popular Varieties [Under Construction]
Although there are dozens (if not hundreds) of varieties in exisitence, there are a limited number routinely available on the market in Australia. Over time, information and pictures of the most regularly-encountered varieties willbe collected here.
'Smartipants'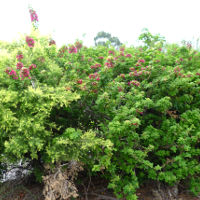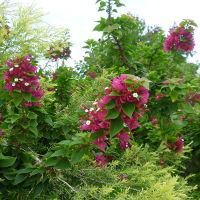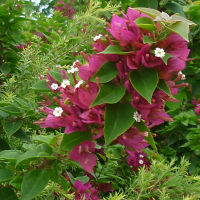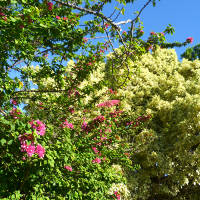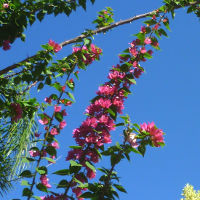 'Rasberry Ice'
'Snowcap'

Bougainvillea 'Snowcap'. Coopers Plains, April 2014


'Klong Fire'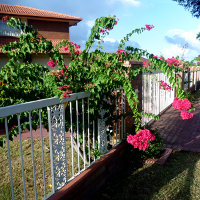 Nonyo PBR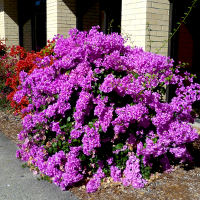 Pedro PBR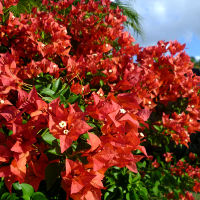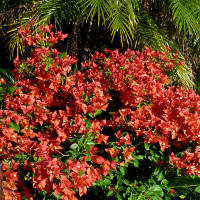 More bouganvilleas and ways to use them in the landscape

Bouganvillea do not flower well in shade, but the tree cover here is clearly not dense enough to affect flowering adversely. The dominant cultivars here appear to be Bambino® NonyaPBR (mauve) and PedroPBR (orange). QEII hospital, Brisbane, May 2014



A few pink, purple and white blossoms suggest that this planting originally contained a greater range of colours than the lavender and orange that now dominate and illustrates how cultivars can differ in vigour.




Superficially this looks like 'Snowcap', but closer inspection suggests it may be 'Klong Fire' (aka 'Mahara'), with some branches sported to a paler coloured inflorescence similar to Limberlost Beauty (aka 'Cherry Blossoms'). Sunnybank, March 2014. This plant is likely about 40 years old.


Different inflorescences from the above plant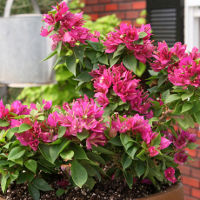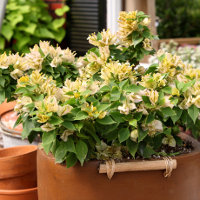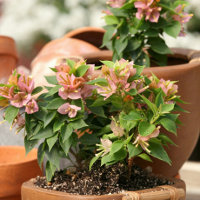 Propagation and production


Possible Misspellings: Boganvillea, Bouganvillea, Boganvillia, Bouganvillia, Boganvilla. In older texts it may be spelled Bougainvillaea.