Conifers
The densely foliaged, geometrical shapes of many conifers makes them popular worldwide for formal gardens, but many gardeners appreciate them for their evergreen pine-scented foliage.
Conifers range in form from low prostrate growth habit to towering trees. Depending on the variety, there are conifers for groundcovers, feature specimens or hedges, and there are conifers for small gardens and large estates.
News
Next generation for Isis Scrub hoop pine
Seeds from a survivor of the original Isis Scrub, a giant hoop pine 200 or more years old, have been collected so that seedlings can be planted in the Childers district as well as Bundaberg Botanic Gardens. Source: Relic from Isis Scrub gives new hope to rare Hoop Pine (January 2014)
Older news at bottom of page.
Nurseries supplying garden conifers to Qld
Garden centres will carry a few popular landscaping lines. For a wider selection, consult a conifer nursery or other nursery specialising in conifers. If you specifically want trees in large sizes for instant landscapes, try Advanced Plants nurseries.
For the most up-to-date information on plants in stock, opening hours, prices etc, be sure to visit the seller's website or contact the business directly.
THE LAURELS NURSERY

Ph: (02) 6636 4225
laurelsnursery.com.au



The Laurels Nursery are conifer specialists, supplying Brisbane, southeast Qld, Darling Downs and N.NSW with a huge variety of conifer species and cutivars suitable for growing in these climatic zones.

Range extends from groundcovers to large trees and ornamental specimen plants to types for hedges, screens and windbreaks. Several varieties of pencil pine to choose from.

Some plants available as advanced stock. Pre-bonsai material also supplied.

Order by phone or visit the Northern NSW nursery by appointment. As well as information on varieties available, The Laurels Nursery WEBSITE has extensive advice on caring for conifers in a subtropical climate.

TAMBORINE MOUNTAIN NURSERY

176 Long Road,
Eagle Heights, Qld 4271
Ph: (07) 5545 4999
tambnursery@iprimus.com.au

Tambourine Mountain Nursery offers a range of beautiful plants, specialising in classic temperate-climate species and many others that are difficult to find elsewhere in the Brisbane/Gold Coast region.

Range includes plants such as camellias, wisterias, conifers, acers, brugmansias, gingko, birches, liquidambar, viburnums, michelias plus a many varieties of evergreen and deciduous magnolias. White, variegated and portwine jacarandas.

Phone ahead to confirm availablity or arrange an order. Wholesale and retail.

This section is intended for nurseries which might be considered conifer specialists, for customers seeking a greater selection or rare varieties. If you operate such a nursery, click here: Advertising information.
Using Conifers
Conifers don't produce flowers, but more primitive cones. Many are commonly referred to as "Pines", even if they don't belong to the genus Pinus. There are species that grow in tropical regions, and others in very cold parts of the world.
Many of the popular ornamental conifers for gardens come from the Northern Hemisphere. Queenslanders, especially residents of the subtropical and tropical zones, should make sure the varieties they select are suitable for their climate and give them appropriate care.
This is especially important if the plants are to be used in formal applications, such as hedges, avenue or framing an entranceway because the effect will be spoiled if the plants grow unevenly.
When specimens of uniform texture and growth rate will be required, look for vegetatively propagated (cuttings or grafted) stock of named cutivars from reputable suppliers.
Even in the case of single feature plants, named (vegetatively propagated) cultivars selected for superior form and foliage characteristics will be preferable to less predictable plants from seed, Propensity to produce cones may be another characteristic to look for when selecting a cultivar. If the conifer is being grown for its foliage (e.g. pencil pines), cones can be unattractive and divert energy from vegetative growth.
The Bunya Pine and the Wollemi Pine are two Australian native conifers appreciated for their ornamental qualities, but are far too large for ordinary garden cultivation (although the Wollemi pine is being promoted as a pot plant). In the future, perhaps other native conifers will be developed for ornamental use.
The so-called "Daintree Pine" is actually a member of the Casuarina family. Gymnostoma australianum, from the Daintree rainforest of North Queensland, has a coniferous appearance and could be subsituted for conifers where a Mediterranean look or a home-grown Christmas tree is wanted in a tropical climate. (for more information on Gymnostoma, go to the Casuarina page.
Pruning
Take care with pruning, as conifers are unlikely to reshoot from old wood. A lillypilly or murraya hedge might be cut back hard and be the better for it. A conifer hedge, however, will need regular attention to develop bushiness, then to maintain size and shape when mature. See also the general topics Pruning Hedges and Topiary and Bonsai as well as information on individial species (below)
More Online Information

Please Note: The following are for general information or research. Many species or cultivars referred to in links may be unavailable in Australia, or unsuitable for Queensland conditions.


General
Conifers in the subtropics and tropics
Cypress Canker
Pruning, Hedges
Groups
Araucaria, Wollemia, other Araucariaceae
Callitris
Northern cypress (Callitris intratropica syn. C. columellaris var. intratropica) Dept of Primary Industries and Fisheries, Queensland

Cupressocyparis
Cupressus
Juniperus
Pinus
Platycladus orientalis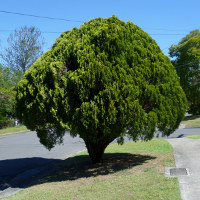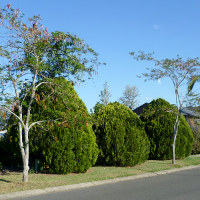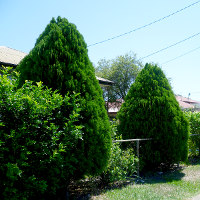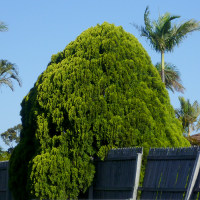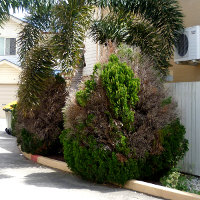 Thuja
Others

More to come in future updates



Older News
Tree's mega genome revealed
Sequencing of the largest genome so far completed - seven times the size of the human genome - has been recently been completed and it belongs to a plant. The Norway spruce's huge genome is due to extensive DNA repetition, which is common in conifers. The Norway spruce genome sequenced (May 2013)

Conifer an alternative to whale-scented fragrances
In spite of it's inelegant origins, ambergris is highly valued as a fixative in perfumes. However, the fragrance industry may soon have access to a plant-based alternative, thanks to the efforts of Canadian researchers. They've found a gene in the balsam fir tree (Abies balsamea), which could be used to produce a comparable substance more cheaply more reliably. Source: How to make high-end perfumes without whale barf (April 2012)

Small leaves confer drought tolerance - but why?
Scientists studying the evolutionary advantages of small leaves in arid environments believe it may be due to the greater relative density and length of major veins in the leaf tissue that results. This helps to ensure adequate water flow even if air bubble forms in the veins (embolism) during drought. Source: Being small has its advantages, if you are a leaf (July 2011)

Bunya cone hazard may see some trees removed
Scenic Rim regional coucil will be engaging an arborist to assess the risk of injury of falling cones from bunya pines (which can weigh up to 10 kg) on council land. Options include de-coning high-profile trees or complete removal or trees in other locations. Source: High Risk Bunya Trees Assessed by Council (July 2011)

Heritage Hoop Pine gets extra care
A heritage-listed Araucaria cunninghamii in Rosewood is receiving extra care from Ipswich City council to ensure that it is not further stressed by the drought. Hoop pines were once common it the area. Rosewood's specimen is thought to be about 120 years old. Read more from the Ipswich City Council here: Council works hard to preserve Rosewood hoop pine November 2007