Daylillies
Hemerocallis species, hybrids and cultivars
Family:
Asphodelaceae (Xanthorrhoeaceae, Liliaceae in some publications)
Daylilies are promoted as a good flowering perennial for a subtropical climate. Note that some types are more suited to a cooler climate, so take this into consideration when selecting your plants. Hopefully your nursery or supplier will be able to supply appropriate information for your region.
Where to buy Daylillies in Qld
While general garden centres may have a selection of daylillies for sale, people seeking a greater range or collectors wishing to buy choice cultivars or rare species etc. will need a specialist daylily nursery.

If you operate a daylilly nursery in Qld, (including online and mail order nurseries that supply Qld) or if you promote or distribute these plants, you can advertise on this page (Information for advertisers).






More Information
Some people suggest daylillies be used in general landscaping, and sometimes large garden beds are seen in parks etc filled with daylillies. Is this very successful? The flowers can't really be appreciated viewed from a distance, and without regular removal of dead leaves and old stalks plants can look tatty. This is made worse when a mixture of different cultivars of different heights and colours are used. The whole thing ends up looking messy.
Try them as specimens or in groups of a single cultivar, but where they can be given a little extra care and attention. The flowers can then be appreciated up close, and if the foliage is kept fresh and healthy, it will compliment the flowers. It makes sense that you should seek out superior cultivars for such special treatment.
Years of breeding by Hemerocallis enthusiasts around the world have created fabulous flowers which almost rival orchids in some cases. You will have to go to a specialist nursery and pay a few extra dollars for these, but they should give you years of pleasure.
The the "day" of daylily tradionally refers to the short life span of individual flowers, but modern breeding has again has a hand here, with some cultivars claimed to last longer. In any case, a good plant should have a succession of blooms coming on to replace old flowers.
Daylilies in the Landscape

Click for larger images.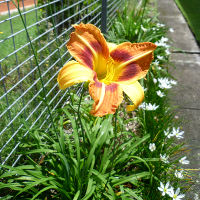 More Online Resources
Ethnobotany

Spelling variations: Daylily, Day Lily, Day Lilly, Daylilly, Daylillies, Day Lillies,



Older News
Nashville celebrates music with flowers
A new public garden in Nashville, USA, will pay tribute to icons of the music industry as well as beautifying the city with appropriately named plants like Hank Williams, Elvis, Grand Ole Opry and Purple Haze. Rose and daylily collections will feature. Learn more at the website: Nashville Music Garden (September 2009).

Daylily Rust
The discovery of daylily rust in Southeast Queensland has threatened the status of the daylily as an easy-care plant. If you want to know more about this disease, visit daylilyrust.org. The whole site is dedicated to the subject and has images, links etc. For some quick background information and good pictures, check out the article by the American Hemerocallis Society. (keep in mind that not all information on either of these sites may apply to Australia).