Indian Mast Tree
Polyalthia longifolia var. pendula
Family:
Annonaceae
This is one of the few tropical trees with a naturally very narrow habit of growth. It's about the closest tropical equivalent to the Mediterraneran's pencil pine, although mast trees tend not to grow as tight and symmetrical. The foliage has a more "shaggy" look, as well.
Indian Mast tree featured in the 02-11-2018 edition of Get Results Gardening, a newsletter-style, email magazine for Australia with an emphasis on subtropical South East Queensland. It covers plants which, like Polyalthia longifolia, are suitable for the region, plus lots of other gardening technique, design ideas and trends. New gardeners and the more advanced will find something of interest. Get a three month trial for free and without obligation with a simple email request. More information at calyx.com.au/getresultsgardening.html.
Where to buy Indian Mast Trees
These trees are slowly becoming better known in Qld, but you may still need to hunt around to find plants for sale. Try tropical plant specialists and advanced tree nurseries if your local garden centre isn't helpful.
This is an informational website only, but if you operate a nursery (including online or mail order) offering Indian mast trees for sale to the Qld public, you can advertise here. More information.
Indian Mast Trees in the Landscape

Click for larger images.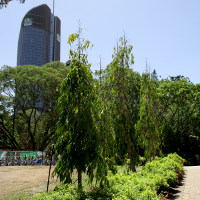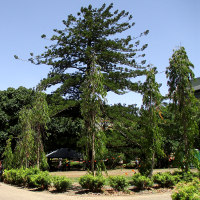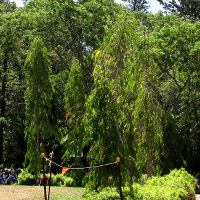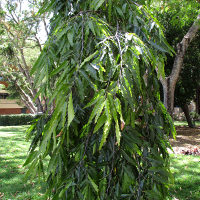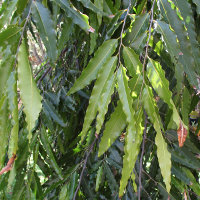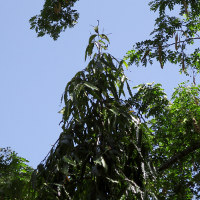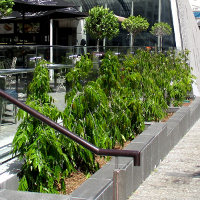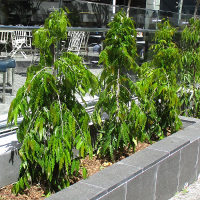 More Online Information
Indian Mast Tree
(
Polyalthia longifolia
var.
pendula
) At "Grow Me Instead" (an Australian website informing gardeners about safer alternatives to invasive ornamentals)
Ashok
(
Polyalthia longifolia
) Flowers of India