More Information
Many Tabebuia species have recently (2007) been reclassified into the genus Handroanthus and two others into Roseodendron, but given that the trees are best known and mostly still sold under the old name, they will be referred to as tabebuias here.
Nomenclature of the tabebuias is confused enough given the number of names that individual species have been called over the years and the similarity of some names. Furthermore, several species have similar pink flowers and several others bright yellow, making it difficult to simply distinguish between various species by sight, even when in flower.
The common names are even less useful, with vague names like "Pink Trumpet Tree" and "Golden Trumpet Tree" being applicable to several species. A huge number of common names are applied to the trees in various parts of the world. Only a few likely to be encountered in gardening publications and nursery lists have been included below. In the Americas, members of the genus or its timber are often called "ipê".
Originating in Central and South America, there are about 100 species of Tabebuia. But only a few are cultivated in Australia so far. These include (see links for further information):
Tabebuia impetiginosa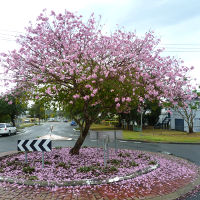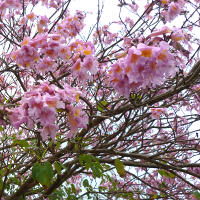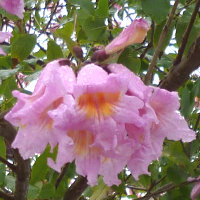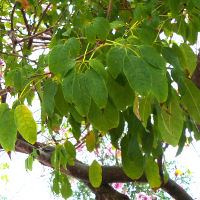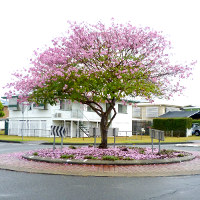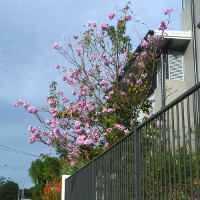 Tabebuia aurea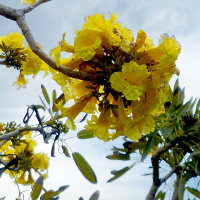 Tabebuia pallida
Tabebuia heterophylla
Tabebuia rosea
Tabebuia chrysantha
Tabebuia chrysotricha
| | | |
| --- | --- | --- |
| Yellow flowered Tabebuia (T. chrysotricha?) growing as a street tree in Brisbane | (NB: Foliage in the background belongs to another, different tree) | Calyx detail |
| | | |
| --- | --- | --- |
| In August, old foliage is deteriorating | By September, foliage has fallen and flowers are emerging. Signs of new foliage. | In October, flowering has finished and new foliage has developed. Detail in inset. Also, note seed pod |
Horticultural future of Tabebuia in Australia
It's suprising that the Tabebuias aren't more widely grown in the warmer parts of Australia, either as street trees or in home gardens. A limited number of species are commercially available here. Importation and trials of other species may increase the options with respect to tree size and form, flower colour and cold tolerance.
So far, it seems that there's been relatively little selection, hybridisation or breeding of Tabebuias for ornamental use done at a commercial level anywhere in the world. One place to start might be selection and vegetative propagation of superior seedlings. One named cultivar that is sold in Australia is T. impetiginosa 'White Beauty" (listed as T. palmeri) with white flowers instead of the usual pink.
There has also been at least some work done in the U.S. (see links below), but there appears to be much untapped potential for developing new cultivars with desirable growth forms, increased cold tolerance, different flower colours or even repeat-blooming.
Some people have expressed concerns over the weed potenial of some Tabebuia species. Low seed-set or sterility (possibly through hybridisation) would be a therefore be a worthwhile criteria of any breeding programme in the future.
Taxonony and Nomenclature
Cultivar selection and breeding
Additional Information
Including other species

Possible misspellings: Tabebuea, Tabibuia, Tabibuea