Aspidistra
Aspidistra elatior
Cast Iron Plant
Family: Asparagaceae
A great container plant for indoors or heavily shaded places (ideal for the novice gardener), surviving easily outdoors in South East Queensland. It's tolerance of low light and drought is legendary, but of course a little attention now and again will keep it looking its best.
It's popularity in times past make it suitable for a heritage house and garden. The Aspidistra has perhaps been somewhat under-appreciated in the more recently but, like many of the old favourites, it's bound to be taken up by landscapers looking for something reliable for dry and dark corners. The elegant and bold leaf form would not look out of place in a tropical or modern style of garden.
A variegated form is quite widely available, but watch out for reversion to plain green. Discard the all-green or mostly green pieces when dividing or repotting to maintain variegation.
Aspidistra elatior featured in the 20-06-05 edition of Get Results Gardening, which gave more information about this tough species. Get Results Gardening is a newsletter-style, mini-magazine for Australian homeowners and other gardeners, with an emphasis on the subtropics and South East Queensland. Get a three month trial for free and without obligation with a simple email request and learn more about other plants suitable for the subtropics. More information at calyx.com.au/getresultsgardening.html.
Aspidistra in the Landscape

Click for larger images.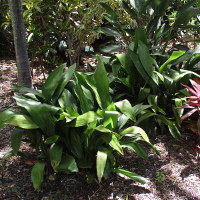 More Online Information



Cast Iron Plant

(

Aspidistra elatior

) At "Grow Me Instead" (an Australian website informing gardeners about safer alternatives to invasive ornamentals)

Aspidistra elatior

Online Manual of Subtropical Landscaping Plants, Palm Beach Community College, Florida


Possible Misspellings: Aspidistrar, Aspidistar, Aspadistra, Aspidestra