Bromeliads
Family: Bromeliaceae
Bromeliads provide interesting foliage form and colour and/or flowers. Epiphytic origins mean most broms require very little, if any, soil. This makes them great for many difficult situations, particularly the heavy root competition under trees. They can essentially live in the mulch without having to compete with tree roots.
Where to buy Bromeliads in Qld
Advertisements
Most garden centres in areas where bromeliads grow are likely to stock some. However, if you're seeking a greater range of varieties or unusal species etc, you may need to seek out a specialist nursery.
RED FOX ORCHIDS



191 Dances Rd,

Caboolture, Qld

Mob: 0437 937 505

redfoxorchids.com.au



Red Fox Orchids carries a large range of genera and is always searching the globe for new and interesting varieties for collectors and landscapers.

A selection of bromeliads including Tillandsia is also available, plus a growing range of tropical plants suitable for indoors.

Buy online and have the highest quality plants and orchid-growing supplies delivered right to your door. Red Fox Orchids staff have developed a packing method that gets plants to their destination quickly and in great condition.

The range is constantly changing, so keep an eye on the

WEBSITE

or send a message if you're looking for something special. You can also arrange an appointment to visit the nursery in person.
As well as bromeliad nurseries in Queensland, online suppliers in Australia that send bromeliads to Qld may also be listed here. To learn more about promoting your business on this page go to: Information for advertisers.
Using Bromeliads in the Landscape
Some Bromeliads make dramatic accent plants, others are more suitable for massing planting. They're also useful on and around shaded patios, in courtyards or other small garden areas. If there's no space of the ground, grow them in containers or actually as epiphytes on trees. They would be candidates for vertical gardens.
Even though they originate in the Americas, bromeliads can be used very effectively in the "Balinese" garden styles, as well as tropical gardens more generally.
Bromeliads require very little water. Supplement in dry periods with light watering.
Most bromeliads prefer shade or semi shade, but some can tolerate full sun and are useful for landscaping in more exposed locations. Aechmea blanchettiana is a common one, often seen planted en masse as a type of tall groundcover. It has golden-orange foliage and also produces tall orange flower spikes.
Once you've grown one bromeliad, you'll want to grow more! Join your local Bromeliad society for information, shows, displays, meetings, outings and plant sales. Or check out one of the specialist bromeliad nurseries on this page.
Neoregelia
Probably the most popular and easily-recognised type of bromeliad in Qld gardens at the moment. Typically, they form low-growing rosettes. The flowers, embedded in the central shallow vase are not spectacular, but the leaves come in an almost endless variety of colour and pattern combinations. They usually prefer light shade, although some are sun-tolerant.
Aechmea
Covered on a separate page:
Aechmea
Alcantarea
Billbergia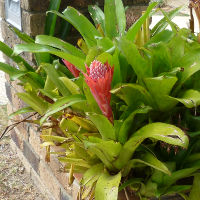 Tillandsia
This genus includes the grey-leaved "air plants" and the so-called Spanish moss.
Guzmania
Portea petropolitana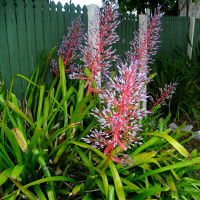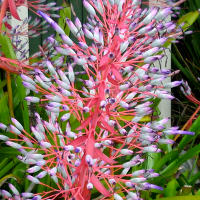 Ananas
This genus includes the familiar edible pineapples, but there are other species grown primarily for ornamental use. The spiky foliage in various colours is the main feature, plus the occasional production of miniature pineapples.


More Images of Bromeliads in the Landscape

Click for larger images.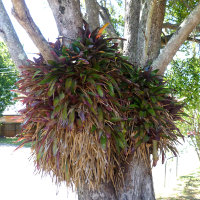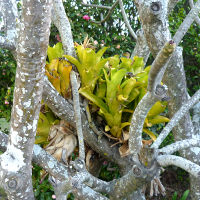 Links