Butterflies and Butterfly Gardening
in southeast Queensland
Although there's considerable interest in bird-attracting gardens, planning a garden for butterflies hasn't received quite as much attention in Australia.
There's now lots of information online to help you select plants to attract butterflies that can be easily found with a search, so all the old links on this page have been removed. For now, this page will be a place to park photographs of butterflies, moths and their caterpillars (including some pests) on both native and non-native plants. They may help you identify insects that you find in your southeast Queensland garden.
Common butterflies are covered in Get Results Gardening from time to time. Click on the banner below ☟ to learn how to get a free trial and learn more about gardening in Australia, especially subtropical SE QLD and NNSW.
Local environmental groups should be able to help you select suitable native plants that grow naturally in your region. Remember that appropriate food plants for the caterpillars are even more important than food for the adults if you want to help butterflies to multiply.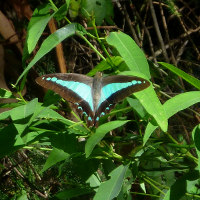 Blue triangle, Graphium choredon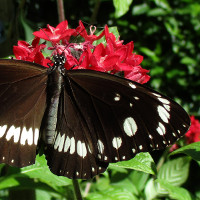 Common Crow butterfly Euploea core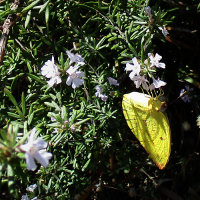 Lemon Migrant Catopsilia pomona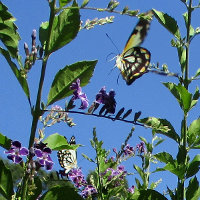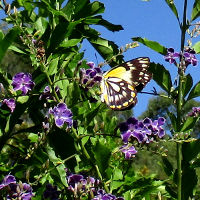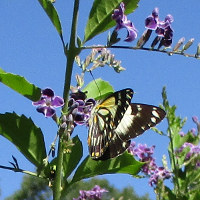 Caper white butterflies (Belenois java teutonia) attracted to flowers of Duranta 'Geisha Girl'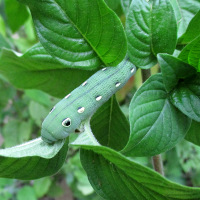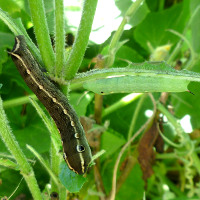 Hawkmoth caterpillar (probably Hippotion scrofa) on Pentas
News
Butterfly Business
A new citizen science project led by the Australian National University is making it possible for everyone to contribute to butterfly research and conservation. The Butterflies Australia Project allows you to submit butterfly sightings, building a database that will help scientists track where butterfly species are, distribution changes over time and places they may be at risk. Get started by downloading their free phone app (iOS and Android). There will be a digital field guide available to help you identify your sightings. Find more information at butterflies.org.au and on their Facebook page, facebook.com/ausbutterflies. Also, look out for workshops held around the country until May 2020. (November 2019)