Lagerstroemia
Crepe Myrtles, Crape Myrtles
Family: Lythraceae
These flowering trees are an old favourite in Queensland gardens. Rather than a tropical flamboyance, they have a more delicate look reminiscent of the cooler climate trees. Their leaves may even colour up a little in autumn and fall in winter.
These old-fashioned favourites have enjoyed renewed interest in recent years with the development of many new varieties in a range of sizes.
Breeding work has produced a plethora of varieties ranging from groundcovers to full-sized trees in assorted colours. Be guided by the label or do your research first to select a suitable variety for the intended position.
Even though they lose leaves in winter, the dwarf types may nevertheless be an option if a tough flowering shrub is required. Look out for 'Little Chief' (Pink), 'Nana Dark Pink', 'Nana White', 'Nana Mauve'.
Larger crepe myrtles losing their leaves can be an advantage - it lets more light into the garden and creates a traditional, European look. Some of the varieties available in Australia include 'Natchez' (white), Tonto' (dark pink/red), 'Soiux' (Bright Pink), 'Zuni' (Dark Lavender), 'Yuma' (Lavender), Lipan (Lavender).
Crepe myrtles have a reputation for suckering off damaged roots. If underplanting, consider permanent shrubs/groundcovers that won't require regular digging in the future.
In spite of the common name, they aren't members of the plant family Mrytaceae (which includes eucalypts and lilypillies). Crepe myrtles belong to the family Lythraceae.
Where to buy Crepe Myrtles
You should be able to find a selection in most garden centres. Tree nurseries might have a limited selection of advanced specimens, although these can be difficult to access by home gardeners. Talk to your local garden centre or landscaper about ordering one for you.
Crepe Myrtles in the Landscape

Click for larger images.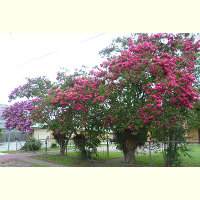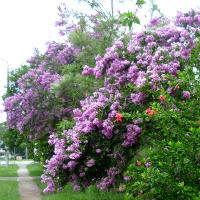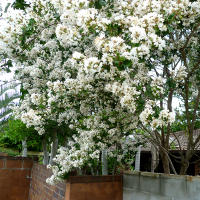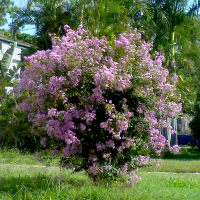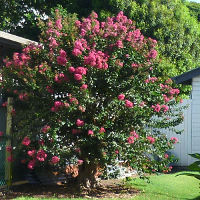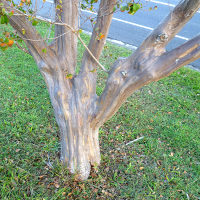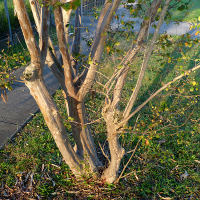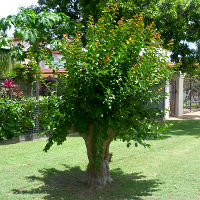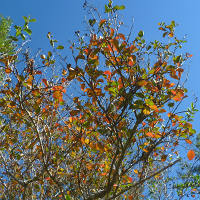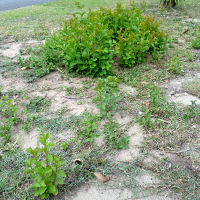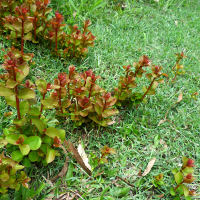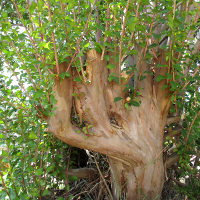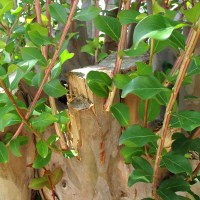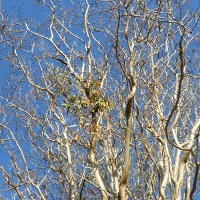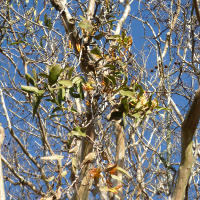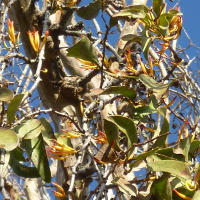 Dark-leaved varieties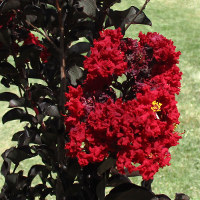 More Online Information
General
Care
Varieties
Lagerstroemia speciosa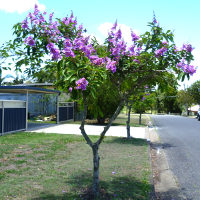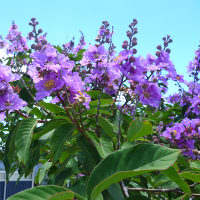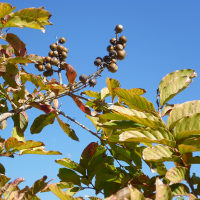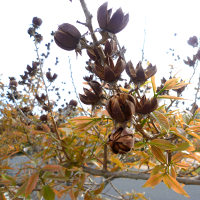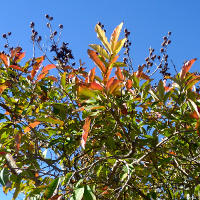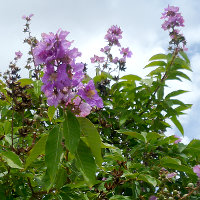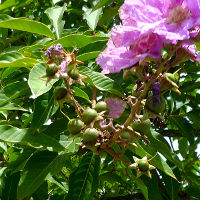 Other Species