Mulches and Mulching Services
These days, the benefits of mulching are widely recognised. A wide variety of materials can be used. Many commercial mulches are made from by-products of agriculture, horticulture and the timber or food industries. This will influence the types of mulching materials that are available locally. For example, sugar cane mulch is popular in Queensland. Other factors that may affect choice of mulch include price, durability, nutritive properties and aesthetic appearence.
Several overviews of the principles of mulching are linked to at the bottom of the page, along with some more detailed studies. The rest of this page will concentrate mulching products and services available in Qld.
Commercial mulches and mulching services
The following advertisers may include online suppliers. For the most up-to-date information on plants in stock, opening hours, prices etc, be sure to visit the seller's website or contact the business directly.
See also Landscape Supply Yards, Garden Maintenance Services.
BLOW IT ALL

PO Box 611,
Sandgate, Qld 4017
Mob: 0423 866 429
blowitall.com.au



The Blow It All mulching service saves you the hard, dirty work of applying mulch, barks, soils, compost, and similar bulk materials to landscapes.

The blower system can apply mulches to almost any terrain, including sloping ground and hard-to-reach areas, even in wet conditions. Playgrounds, rooftop gardens and commercial interiorscapes can also be mulched quickly and precisely, with a special finish that can't be achieved by hand.

Blow It All's standard of quality and service is second-to-none, whether working with government authorities, developers, property managers or private homweowners.

Servicing Brisbane, Gold Coast, Sunshine Coast and South East Queensland. For more information, visit the Blow It All WEBSITE


Do you operate a commercial mulching service (such as spray-on mulch or bark blower)? Or do you manufacture, distribute or sell a commercial mulch product in Qld? Coloured mulches, decorative pebbles, crushed glass, mulch mats etc may be promoted here in addition to more traditional mulches. More information about advertising




More Online Information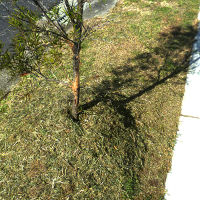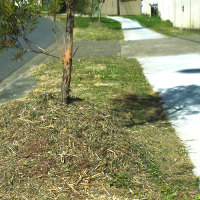 Older News
Tannins could be a problem in hotter drier climates
A U.S. study has shown that under hot, drought-like conditions, red maple leaves accumulate tannins that interfere with enzymes in soil. When such leaves fall, they could impair decomposition, nutrient cycling, and subsequent plant growth. Source: Drought-exposed leaves adversely affect soil nutrients, study shows (April 2011)