Cordylines
Cordyline species and cultivars
Family: Asparagaceae (previously listed in Liliaceae, Lomandraceae or Agavaceae)
Cordylines are colourful foliage plants which have become very popular in recent years, partly because the range of varieties available in the marketlace has expanded, and partly because they are so complimentary to modern landscaping styles. Depending on the variety you choose, they can deployed in lush tropical gardens or as tough potted accents for a contemporary patio.
Where to buy Cordylines in Qld
You're likely to find at least some cordylines in garden centres, particularly in the warm parts of Qld.
Gardeners looking for particular cultivars or a wider selection may have trouble, however. If you're a retail supplier that specialises in cordylines (including online or mail order nurseries), please get in touch about advertising on this page.
Also, look for plant expos and the shows by tropical plant societies (Events Diary).
Cordyline fruticosa
(synonyms: Coryline terminalis, Dracaena terminalis)



This group of cordylines will be the most familiar to the average Queensland gardener, being very popular in lush "Balinese" or resort-style tropical gardens. Many varieties in a huge range of foliage colours and patterns.

Most cordylines in this group prefer some shade. Some more sun-tolerant types include 'Roosters Tail', 'Negra', 'Peter Buck', 'Pink Diamond'. For others, check the label.

Most fruticosa varieties prefer light shade. If leaves look burnt and tatty it may be that the variety can't cope with the amount of sun being received. In that case, the plant could be moved.

Multiple-planting several of the same variety will have more of an impact than individual specimens sprinkled among other plants. They can also be cut back to encourage branching when they get too lanky.

Older specimens will develop long stalks with tufts of leaves at the top. Sometimes this can give an interesting jungle effect, but eventually the beauty of the foliage will be hard to see. These stalks can be cut back to short stumps from which new shoots should appear. This will not only eliminate the spindly trunks but make the plant branch and look fuller. A little fertiliser and water will be helpful in this regard.

Cut pieces needn't be wasted as they are easy to root in potting mix in a shady place, giving lots of new plants for free. Pieces of stem root easily. Besides providing lots of free plants for massed effects, you can cheaply expand your collection by raiding friends' gardens.
Key features:
easy to grow and reasonably drought tolerant
long-lasting colour (mass for best effect)
variety of sizes and colours to choose from
great for creating Balinese or other tropical-style style gardens
cut back if the canes become leggy
suitable for containers
suitable for planting under trees
try dark colours in sunnier positions
Cordylines in the Landscape

Click for larger images.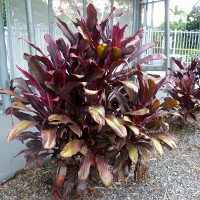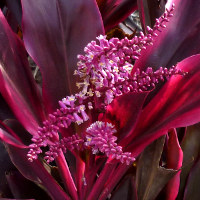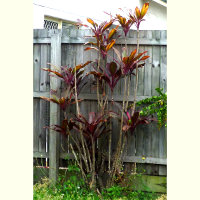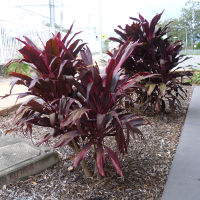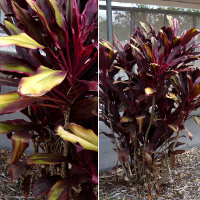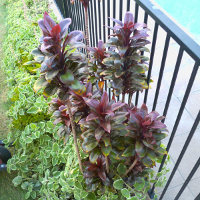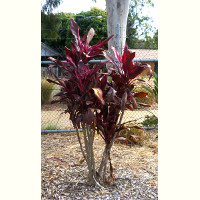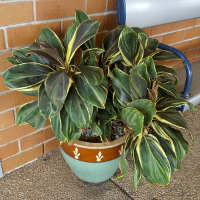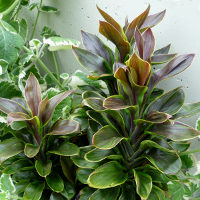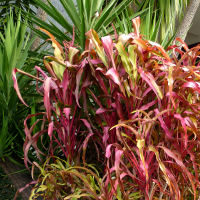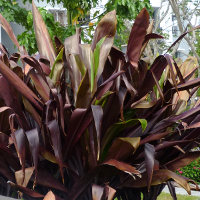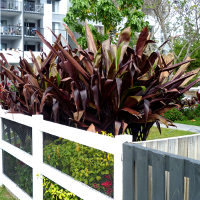 Cordyline australis and hybrids
C. australis or Cabbage Tree, is native to New Zealand, and is also quite popular in cultivation. Some commercial cultivars are hybrids with other species such as C. banksii and C. pumilo. The elongated foliage gives a dramatic spikey look which is popular in modern, minimalistic garden styles, particularly as accents in pots.
Tend to be tough and drought tolerant, for sunny positions.
Selected forms include foliage with purple, red and yellow tones. Some commercial cultivars have been selected for a low, clumping growth habit especially for pots and accent planting.
Australian Native Cordylines
There are several Australian native Cordyline species. These are less spectacular than the commonly cultivated types, althought displays of berries can be quite attractive. They are certainly a must for an Australian native rainforest-style garden.
More Online Information

NB: You may sometimes encounter Cordyline classified as Dracaena in older literature.