Cordyline fruticosa
(synonyms: Coryline terminalis, Dracaena terminalis)



Until recently, this group of cordylines was probably be the most familiar to the average Queensland gardener. They've become especially popular in recent years with the rise of the "Balinese" gardening style in Australia. Cultivars come in a huge range of foliage colours and patterns.
easy to grow and reasonably drought tolerant
long-lasting colour (mass for best effect)
variety of sizes and colours to choose from
great for creating Balinese or other tropical-style style gardens
cut back if the canes become leggy
suitable for containers
suitable for planting under trees
try dark colours in sunnier positions
Cordyline australis and hybrids
C. australis or Cabbage Tree, is native to New Zealand, and is also quite popular in cultivation. Some commercial cultivars are hybrids with other species such as C. banksii and C. pumilo. The elongated foliage gives a dramatic spikey look which is popular in modern, minimalistic garden styles, particularly as accents in pots.
Tend to be tough and drought tolerant, for sunny positions.
Selected forms include foliage with purple, red and yellow tones. Some commercial cultivars have been selected for a low, clumping growth habit especially for pots and accent planting.
Australian Native Cordylines
There are several Australian native Cordyline species. These are less spectacular than the commonly cultivated types, althought displays of berries can be quite attractive. They are certainly a must for an Australian native rainforest-style garden.
Cordylines in the Landscape
Click for larger image.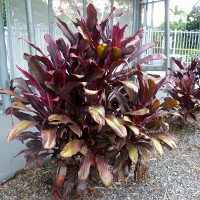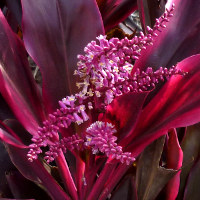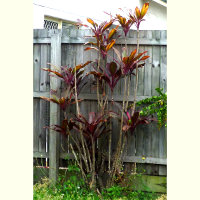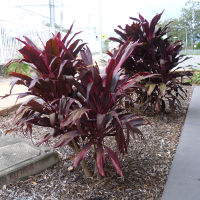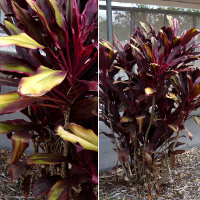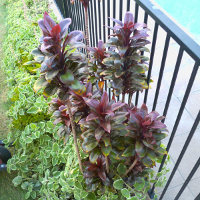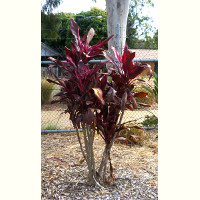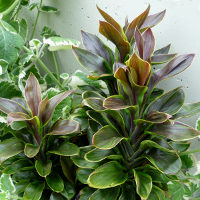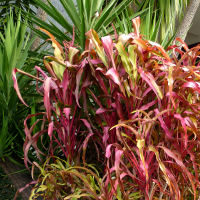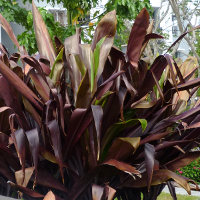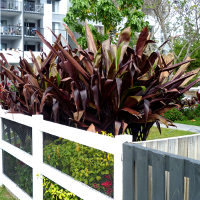 More Online Information

NB: You may sometimes encounter Cordyline classified as Dracaena in older literature.