Cycads
Cycads add elegant focal points at lower levels, while having the ferny or palm-like foliage that is instantly associated with the tropical garden. Don't forget you can have a native tropical garden by choosing native species of cycads.
News
Major new addition to Mt Coot-tha gardens open
A four hectare expansion to Brisbane's Botanic Gardens at Mt Coot-tha is complete and opening to the public. This is the largest addition to the gardens since they opened in 1970 and includes 31,000 new plants. New gardens areas represent various Queensland habitats and themes including bush foods, coastal plants and the Queensland Conservation Walk featuring more than 200 rare and endangered species. Star of the new additions is a 250 year old, 6.5m high cycad which originated near Injune in South West Queensland. Sources: Four hectare Botanic Gardens expansion opens to public, 250 year old tree forms centrepiece of gardens expansion (May 2015)
Older news at bottom of page.
More Online Information
Note that many rare or endangered cycads are protected under various forms of legislation in Australia and internationally. The following links have been provided for general information but they (and the information contained in them) are NOT necessarily complete or up-to-date. Be sure to CHECK WITH APPROPRIATE AUTHORITIES yourself if you think such laws may affect you (including private individuals). If you're outside Qld (or trading with others outside Qld) check with relevant bodies governing those locations.
If you want to find out more about current laws concerning propagation, movement or trade in protected cycads in Qld, visit the Department of Environment and Resource Management website. For some factsheets to get you started, try: www.derm.qld.gov.au/services_resources/item_list.php?series_id=200678. Contact the department for further information if you wish to engage in such activities.
Sago Palm
Cardboard Palm
Also called cardboard cycad or carboard palm (not a palm). Drought tolerant. Leaves are a grey-green colour but as it clumps up, it creates a dramatic effect, as illustrated below.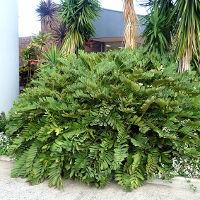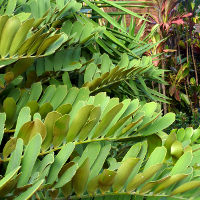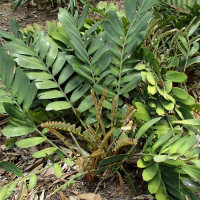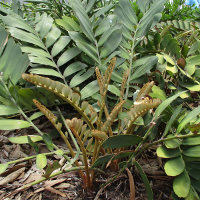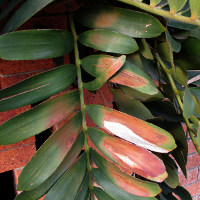 Other Species
Warning: collection, propagation, movement, sale or purchase of any Australian native plant may be subject to laws and regulations. Be sure to check with appropriate authorities before engaging in these activities, even on private property. Other laws may also apply to the treatment and movement of plant or soil material (for example, to control the spread of weeds, pests and diseases.)
Older News
Pre-colonial cycad a star of Gardens' expansion
A rare, 250 year old cycad will be one of the stars of the new Brisbane Botanic Gardens expansion at Mt Coot-tha. The 6.5m high, 2 tonne specimen came originally from Injune in SW Queensland. The cycad and 31,000 other new plants plus a new lagoon, playground, picnic facilities, and kitchen garden are a part of a major upgrade to the Gardens, the largest since it opened in 1970. Source: 250 year old tree forms centrepiece of gardens expansion (January, 2015)
Cycad seeds may favour colony development
The large fleshy seeds of cycads suggest they are adapted for dispersal by a large animal, but no large birds or mammals today are known to routinely eat them. So how have cycads survived? Based on monitoring of Macrozamia miquelii by University of Queensland researchers, a new theory proposes that cycads' tendency to occur in well separated but dense colonies in the wild is a reflection of limited seed dispersal mechanisms and that this may actually be to the cycad's advantage. Because plants are either male or female, a lone seed dispersed far from other plants would be unlikely to reproduce. Very large but now-extinct animals might have eaten and deposited several seeds at once. The need to form colonies may have prevented cycads from evolving smaller seeds better suited to dispersal by smaller fauna. Source: Ancient cycads found to be pre-adapted to grow in groves (August 2013)
Inland cycad not a rainforest remnant
Analysis of the MacDonnell Ranges cycad (Macrozamia macdonellii), suggests its ancestors arrived in central Australia in only the last 2 million years or so. If it had been isolated from its eastern relatives for 30 million years, as previously thought, greater divergence should have been observed. This means that the cycad is probably not a survivor of an ancient Eocene era rainforest. Source: Cycads in central Australia are not ancient relics (August 2012)
Guam cycad pollination studies
Studies of the endangered Guam cycad Cycas micronesica (locally known as Fadang) showed that plants on the windier side of the island produced fewer seeds, suggesting insects may be more important than wind for pollination. Understanding the reproduction of this threatened species may be critical to ensuring its survival. Read more at the Western Pacific Tropical Research Center website: Fadang photo makes the cover of major botanical journal (July 2011)
New container for Kew veteran
One of the world's oldest pot plants - a specimen of cycad Encephalartos altensteinii collected from South Africa in the 1770s - has been repotted at the United Kingdom's Kew Gardens. With a trunk now over 4m long, great care and effort was required to lift the huge weight of this famous plant without damage. It now lives in a handcrafted mahogany box. Read more at the Kew website: Ancient cycad, the King of Kew's Palm House, gets a new home
Cycads among additions to Townsville botanic garden
A new cycad garden and an avenue planting of 50 Kauri Pines is opening at Anderson Gardens. One of three botanic gardens in Townsville, Anderson Gardens is developing a theme of "dry tropical and native flora". Read more: Council unveils new plantings at Anderson Gardens (Townsville City Council) (June 2008)