Hibiscus
Hibiscus species, hybrids and relatives (Malvaviscus, Alyogyne)
Family:
Malvaceae
The Hibiscus is familiar to everyone as being, along with the palm, essentially a "logo" for the tropics.
They are popular in Queensland gardens not only for their tropical look, but also their ease of growth (especially the older varieties), long flowering season through the warm months and utility as hedges and screens.
Most commonly cultivated here are Hibiscus rosa-sinensis cultivars or hybrids of H. rosa-sinensis with other species such as H. schizopetalus or H. arnottianus.
Malvaviscus is a relative with flowers like a partly-opened hibiscus. Old-fashioned Malvaviscus arboreus is easy and fast to grow. Could be used for informal screening in a large garden, but may be difficult to find in garden centres.
There are also the Australian native hibiscus and hibiscus relatives to explore. Gardeners in temperate climates can grow H. syriacus, although these aren't common in the warmer coastal and tropical regions of the state.
Did you know that Bunga raya, the five-petaled Hibiscus, is the national flower of Malaysia?
Where to buy Hibiscus plants
In Queensland, you should be able to find some hibiscus plants for sale in most Garden Centres. For a larger selection, you may have to seek out a hibiscus nursery or tropicals specialist.
Garden shows can also be a source of more unusual plant varieties. Check this site's Events Diary for gardening events in Queensland.
If you operate a business (including online and mail order nurseries) supplying Hibiscus plants to the public in Queensland, you can advertise in this section. Information for advertisers.
Designing with Hibiscus
Hibiscus have an iconic flower that is, of course, suited to tropically-themed gardens. However, they can also be incorporatred into other designs fulfill more utilitarian functions.
If your interest is a traditional "English" or cottage style garden, remember that in spite of their floral associations, hibiscus are woody broadleaf shrubs. This makes them quite traditional in form compared to many other tropicals. Depending on the natural growth habit of the variety, they can be shaped and hedged, incorporated into a less formal shrubbery or screen or trained as a small tree. Stick with old fashioned types in the softer whites, pinks and peach flowers colours for a more classic look.
If you have a particular colour scheme in mind, of course you can select a hibiscus to suit. Flower range from pure white through the yellows, oranges to the reds and pinks.
Hibiscus also have a strong association with old Queensland gardens, so they wouldn't be out of place adorning a traditional Queenslander style home regardless of the colour.
Most hibiscus have large flowers, which is useful to remember when selecting shrubs for the back of the garden that are usually going to be viewed from some distance, or the visually impaired.
Upright, tall varieties could make useful flowering screens (e.g 'Ruth Wilcox', 'Psyche', 'Swan Lake', 'Archeri'), just requiring occasional pruning to keep them tidy. Others could be formed into semi-formal hedges. Tight clipping will result in loss of flowers, but this wouldn't be such a problem with variegated cultivars which are primarily grown for their foliage effect, anyway.
Smaller-growing types include 'Ritzy" or 'Tiny Tina' could make smaller hedges or they could be incorporated into mixed beds with other shrubs and perennial flowers.
Compact varieties bred primarily for container culture in Europe and similar climates, where they perform as summer patio plants, are a recent international trend which is making its way to Australia. No doubt they will be useful in that situation here, too. Given we can grow them outdoors all year, we should be able to grow them in the ground also, but their suitability for that remains to be seen. If you want to try them, look out for the TradeWinds collection and the Flamenco series. The latter also claims to have longer-lasting flowers.
Some hibiscus varieties for general landscaping in Qld
The following are a selection of cultivars that are easily grown and widely available in Queensland. Generally, the flowers aren't as spectacular as some of the more highly developed exhibition types, but the bushes are tough and surprisingly drought tolerant once established. Over time, pictures will be added to help you choose hibiscus and help you identify hibiscus that you may have already growing in your garden, given most of the following are old, tried and tested varieties.
'Archeri'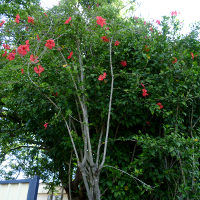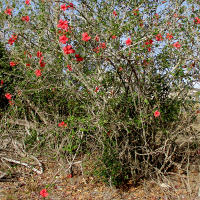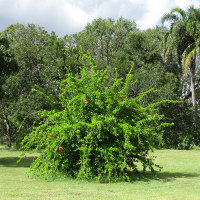 'Andersonii'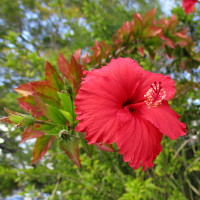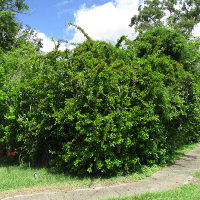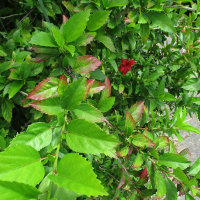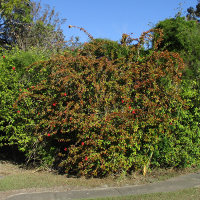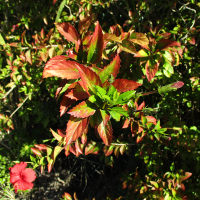 Cuban Variety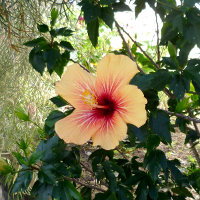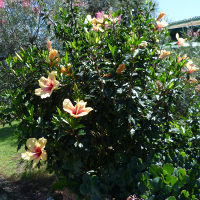 'D.J. O'Brien'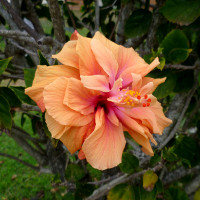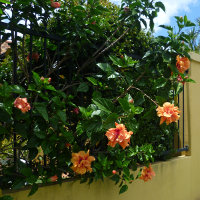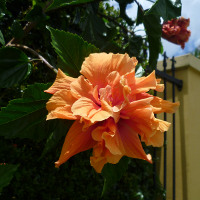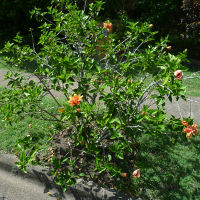 'Moonshot'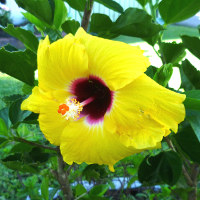 'Mrs George Davis'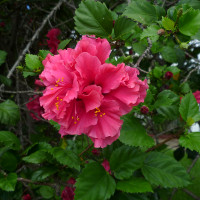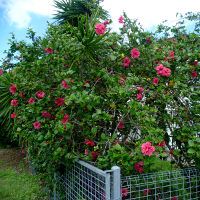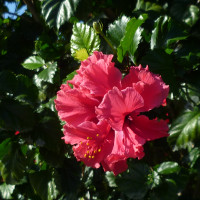 'Psyche'
'Roseflake'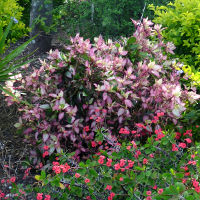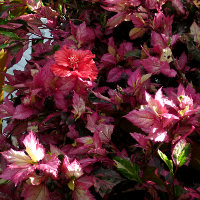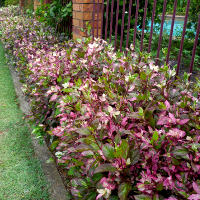 'Ruth Wilcox'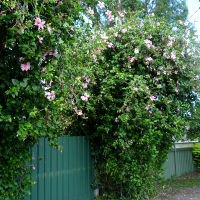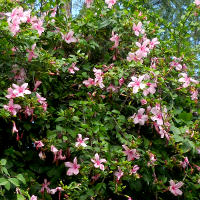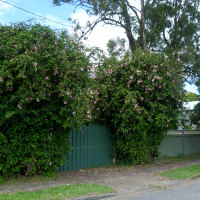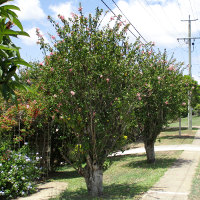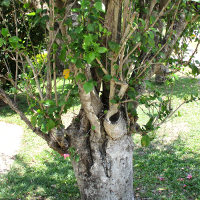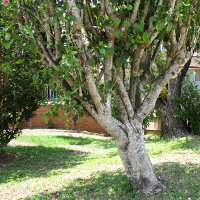 'Snow Queen'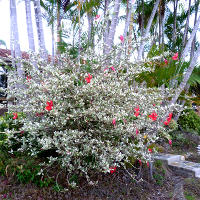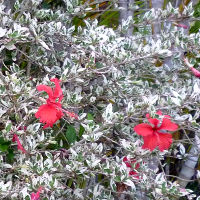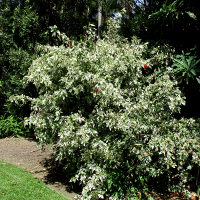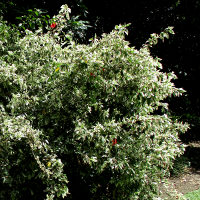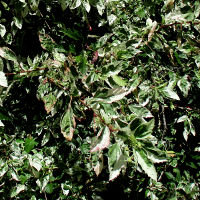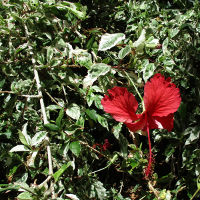 'Swan Lake'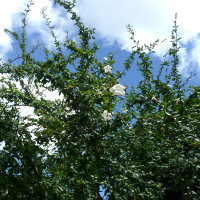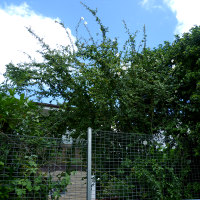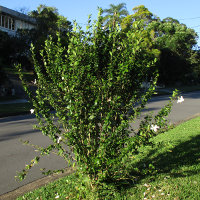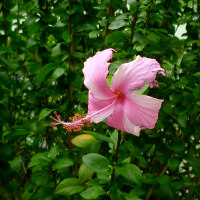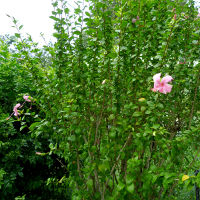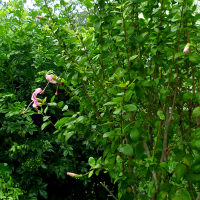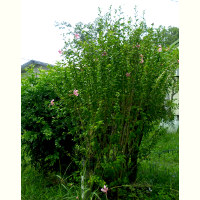 'Tiny Tina'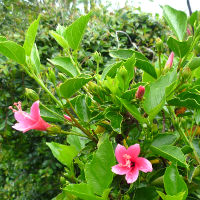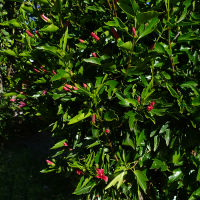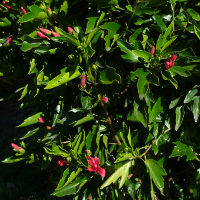 'Wilder's White'
Others
New varieties are also be released onto the market from time to time. Some of these may have been developed in other parts of the world, notably the "patio" hibiscus which are mainly grown in pots in cooler climates. Their performance in Queensland gardens is yet to be proven, but if you like to experiment, you might like to give them a go.
Other Species
Hibiscus schizopetalus
Hibiscus mutablis
Hibiscus tiliaceus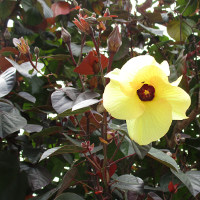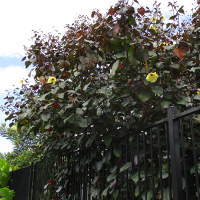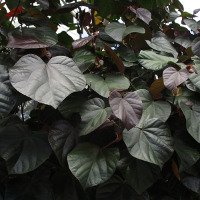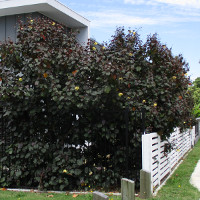 Australian native Hibiscus, Alyogyne, Lagunaria species
Useful plants in the Malvaceae family Australian New Crops Newsletter Issue No 8, July 1997. (PDF))

Malvaviscus
Hibiscus syriacus
Hibiscus acetosella
Hibiscus Erinose Mite (Brisbane, May 2013)

More Online Information resources
Because of the popularity if Hibiscus throughout the world, there is plenty of good information online. Some key websites of interest to Queenslanders are:
Enthusiasts may be interested in Hibiscus Around the World, January 1964 (Letters to J.W. Staniford 1963-67 from Ross H. Gast reproduced at www.hibiscusworld.com), which contains some information about cultivars available in Qld in the 1960s.