Plumeria pudica
Pudica
Other names:
Bridal Bouquet, Fiddle Leaf Plumeria
Family:
Apocynaceae
Compared to the familiar frangipani (P. rubra), Plumeria pudica is relatively new on the scene in Queensland. It's evergreen or almost so (depending on how cold it is) with unusually shaped leaves. It has white (non-fragrant) frangipani-style flowers on a bush/small tree that is more upright and denser foliaged than more familiar frangipanis. This is often called "evergreen" and can keep its leaves in winter in Brisbane, but may defoliate in colder districts.
This species was covered in more detail in the 2-10-2020 edition of Get Results Gardening. If you're looking for information on plants that are easy to grow, especially in the subtropical and tropical regions of Australia, plus other gardening information and news, check out this weekly email publication. Find out how to get a free trial at calyx.com.au/getresultsgardening.html
Plumeria pudica in the Landscape

Click for larger images.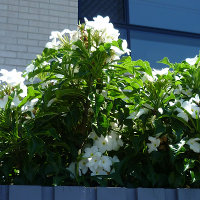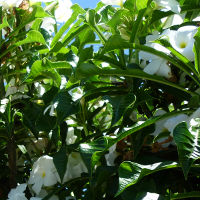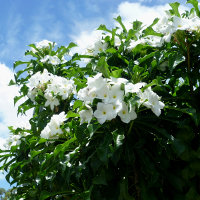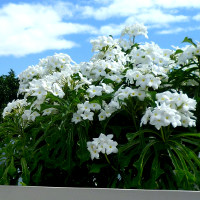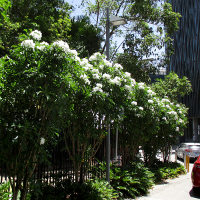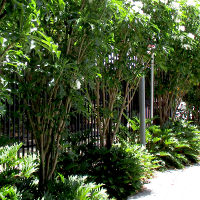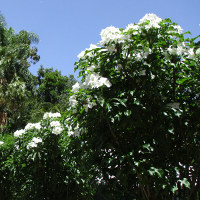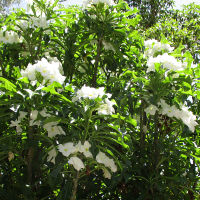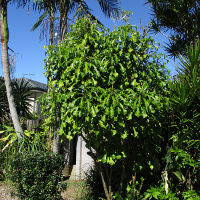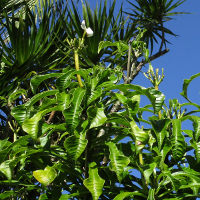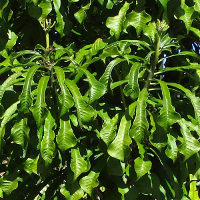 Late July in Brisbane: almost all the flowers have fallen but the foliage still looks good.
Other Information Online
Plumeria Pudica
Bridal Bouquet, Fiddle Leaf Plumeria. University of Florida (PDF)