More Information
The most common types of Plumera in Queensland fall into two groups:
Plumeria rubra (P. acutifolia), which loses most or all of its leaves in winter in SE Qld. The most familiar flower colour found in local gardens is white with a yellow centre, but pinks and multi-tones are not uncommon. Many named cultivars are now available in a range of colour and petal variations.
The evergreen frangipani Plumeria obtusa is also becoming popular in modern landscapes. The flowers (most commonly white with a yellow eye) have more rounded petals and the foliage is handsome. In spite of the name, however, the "evergreen" frangipani is likely to lose its leaves in winter in Brisbane conditions.
Plumeria pudica is relatively new on the scene in Queensland. It's evergreen or almost so (depending on how cold it is) with unusually shaped leaves. It has white (non-fragrant) frangipani-style flowers on a bush/small tree that is more upright and denser foliaged than more familiar frangipanis.
Some cultivated types may, in reality, be hybrids of these or other Plumeria species. You may also find other Plumeria species on the market occasionally.
There are some dwarf frangipani available. P. obtusa 'Singapore Pink' is one of the best known and should be relatively easy to obtain, but others are available from specialist nurseries.
Frangipani rust (Coleosporium plumeriae) has unfortunately cursed Plumeria in Australia in recent decades. Although it will not kill the tree, it will be debilitating and looks awful, too. Picking up fallen, spore-bearing leaves and disposing of them in the rubbish bin will not prevent the disease but could - in theory - reduce the potential for re-infection.
While it may take many years to develop into a substantial tree, you can get a head start by obtaining large pieces in late winter and striking them directly in the ground, much as you would do with smaller succulents. Allow any cuttings to dry out for a couple of weeks. When placing in soil, stake securely. Large pieces will be very top-heavy but it's important that they are held firmly in place until a sufficient root system can develop to support the plant. To play it safe, leave giant cuttings staked for at least two years.
If you're looking for more general information about growing frangipanni, check out the selection of links below.
If you're looking for places to buy frangipanni in Qld, check the directory above. These should be able to help if you're looking for a particular colour or named cultivar, or if you're a collector seeking rare or unusual types. However, your local garden centre will probably have some to get you started, provided you live in an area where they will grow.
Other plants which go under the common name "Frangipani"
The co-called "Climbing Frangipani" is not a Plumeria, but Chonemorpha fragans (although it belongs to the same family, Apocynaceae. More information here: Chonemorpha fragans
The Australian "Native Frangipani" is not a Plumeria either. Hymenosporum flavum belongs to a different family, the Pittosporaceae. More information here: Hymenosporum
Frangipani in the Landscape
Click for larger image.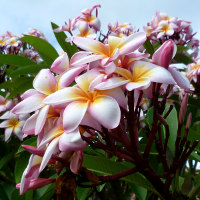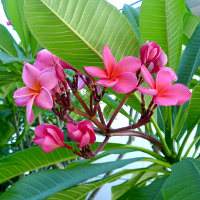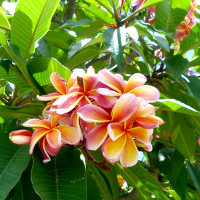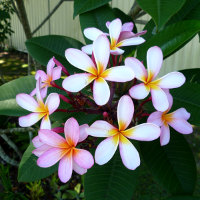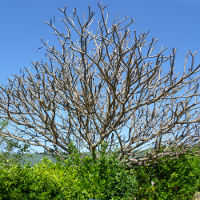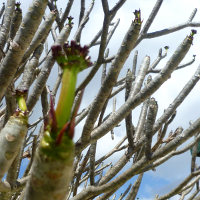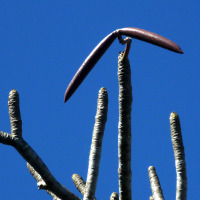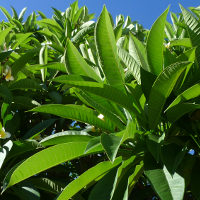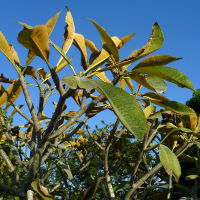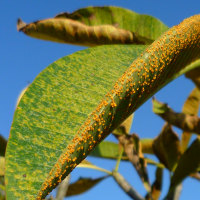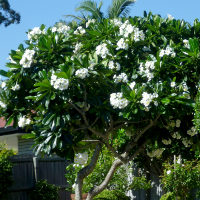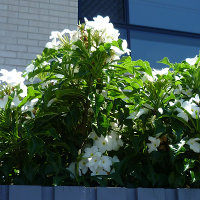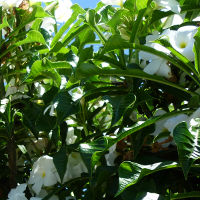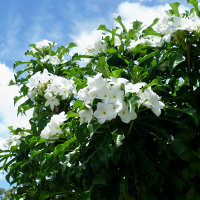 Other Information Resources


Hydroponic Rooting Project at "A Plumeria Journal"



Possible Misspellings: frangipanni, frangpani, frangpanni, farngipani, franipani, franipanni, plumaria