Daisy
A wide variety of daisy-flowered plants are easy to grow while having the classic cottage-garden look.
The term "daisy" encompassed a broad range or ornamentals carrying the typical compound daisy-type flower. Some of the commonly cultivated types are annuals, some herbaceous perennials, some semi-shrubs.
For annuals like sunflowers, zinnias or gaillardia, see the Annuals and bedding plants page.
This page deals with the perennial types. This does not mean they are necessarily long-lived, but most can be propagated readily. This will keep favourite types going and help fill up the garden cheaply.
Online Information
Argyranthemum (Marguerite Daisy)
Traditionally called marguerite daisy. Sometimes called Federation Daisies®, but this is a trade name that only applies to a particular brand Australian-bred varieties (see www.federationdaisies.co.nz/about.htm for more information). Older types are large and lanky, but newer types are usually bred for compact growth as well as a variety of flower colours and forms. Short lived plants but in so pretty in flower you might think they came straight from a child's picture-book.
Aster
Chrysanthemum
Coreopsis
Secrets of the black dahlia

A study of the "black" dahlia has revealed that the large amounts of red anthocyanins are produced due to a lack of flavones (associated with white flowers) competing for biochemical building blocks. It is not caused by increased activity of the anthocyanin pathway. The findings are a step towards engineering flavone content of plants. Source: Le Rouge et le Noir: Where the black dahlia gets its color (November 2012)
Dahlia
Euryops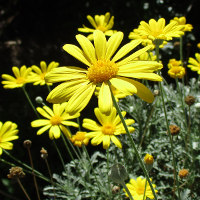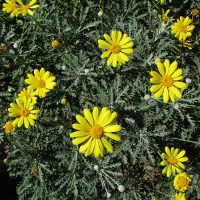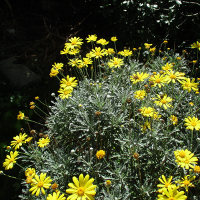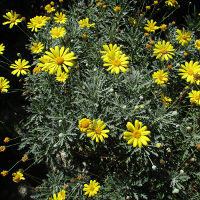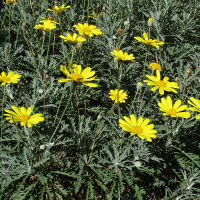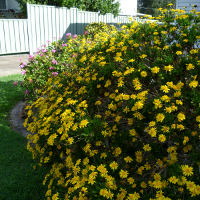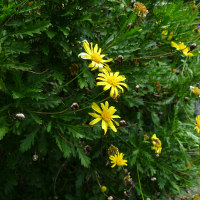 Felicia
Gaillardia
Gazania
Gerbera
Helichrysum
Osteospermum
A daisy-style flower and moderately tolerant of dry conditions. Old types are rather straggly and require sun for the flowers to open, but new selections have a more compact habit and some will stay open all the time. Look out for Tradewinds series, Serenity series and 'Voltage Yellow'. A good video introduction to the group at https://www.youtube.com/watch?v=7726Cw5xIGE
Melampodium
Rudbeckia
Shasta Daisy
Sunflower

The secret of van Gogh's sunflowers
The sunflowers painted by van Gogh have a proliferation of yellow petals and a reduced central disc compared to common sunflowers which typically have a only single whorl of yellow "ray florets". A mutant gene creating a double-flowered inflorescence has been identified. A double varieties screened have the same mutation, suggesting this is the indeed the one responsible for the blooms van Gogh painted. Similar varieties are popular today as ornamentals and cut flowers. Source: UGA scientists reveal genetic mutation depicted in van Gogh's sunflower paintings (March 2012)

Goondiwindi students sunflower champions
Goondiwindi State High School have won the annual Sunflower Competition withan entry weighing 1.837kg. More information atThe University of Queensland website: Goondiwindi growers top the scales (May 2010)


Zinnia
Others