Annual Flowers
& other Bedding Plants
Annuals generally germinate, flower, set seed and die within a single year. Some species may survive more than a year under favourable conditions (i.e. short-lived perennials), but are treated as annuals for the purposes of producing spectacular displays, and discarded after they've passed their prime.
"Bedding plants" generally refers to plants, annual or perennial, employed in short term displays. Perennials used in this way might include cannas, pelargoniums, salvias, coleus and other coloured foliage plants, massed in garden beds to create stunning effects over a period of weeks or months, after which the beds are cleared and prepared for fresh planting. Cuttings or divisions of these plants may be taken for future use.
True annuals are usually reproduced from seed. If you wish to save seed, a drawback is that you need to retain the plant long enough for the seed to mature during which time the plant won't look very good. is isn't such a problem in an informal cottage-style garden. Some species self-seed, so over time you can enjoy flowers popping up throughout the garden without any work. Encourage this by sprinkling seed of from spent plants in areas where you might like some more flowers. Most can be easily removed if they come up where they aren't wanted. As space fillers, they're preferable to weeds!
Get Results Gardening is a newsletter-style, mini-magazine for Australians, with an emphasis on the South East Queensland. It covers easy to grow annuals and other plants suitable for this regions, plus basic gardening information, trends and design concepts that will be of interest to home owners across the country. Get a three month trial for free and without obligation with a simple email request and learn more about other plants suitable for the subtropics. More information at calyx.com.au/getresultsgardening.html.
Annuals & bedding plants suitable for subtropical to tropical climates
The focus here is on subtropical and tropical parts of the state because there is already a lot of information available for more temperate regions from the southern states and overseas. Most of the following can also be grown in cooler regions, although optimal growth season and varieties may vary.
Below are some pictures and links to more information about some other common annuals. Links to general information at the bottom of the page.
Alyssum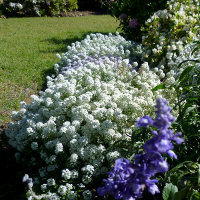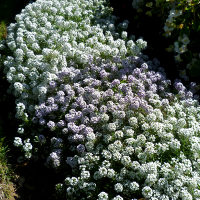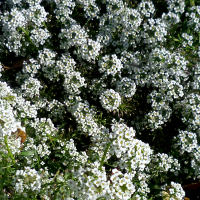 Catharanthus
Locally known as Vinca, although it is not the true Vinca. The common pink type found in old gardens is considered a weed by many authorities. Whether the fancier strains commercially available in garden centres are as prolific is unknown. Look for it in punnets.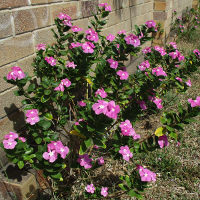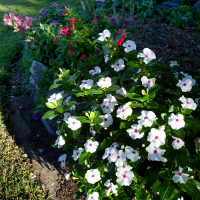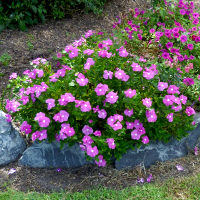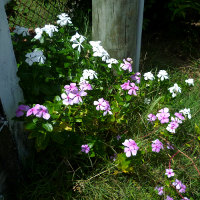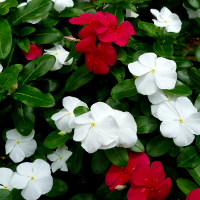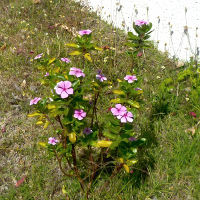 Celosia
Cleome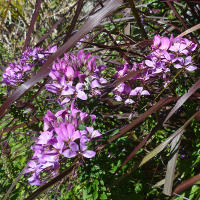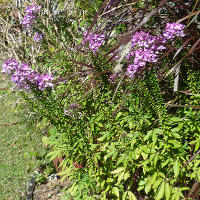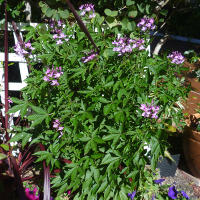 Impatiens
Lobelia
Nasturtium
Pansies and Violas
Senecio cineraria
Senecio 'Silver Dust'. Also known as "Dusty Miller". Soft grey ferny foliage would tie with the house colours while providing a colour and texture contrast with other plants. If the small yellow flowers form, will look better if they are removed. Inexpensive filler available in punnets. Could be a short-lived perennial but susceptible to poor drainage and humidity.
Snapdragon
Verbena
Others
Ageratum
Bacopa
Ornamantal Kale
Calendula officinalis
Poppies
California Poppy
Kalanchoe blossfeldiana
Nemesia and Diascia Univ. Florida Santolina




More Information
Few home gardeners in Queensland are using annuals and other bedding plants on a large scale as they did in the past. Most of us don't have the time (nor the water, often) to invest in such temporary displays anymore. Nowadays, carpets of colour today are mainly limited to the more high-profile municipal locations, special festivals and garden competitions.
Bedding plants still have a place in the modern garden, however. For a few dollars, you can dress up high impact areas like entranceways, and fill in temporary bare spots while you're waiting for your more permanent plantings to grow. Annuals, especially the advanced plants, are also good for decorating the garden for special occasions like a garden weddings.
If you don't have a suitable garden bed available, don't forget that annuals and bedding plants can be used in pots, hanging baskets and planter boxes. Container gardens are a great way to have fun and be creative with annuals and bedding plants. Your chances of success are also increased with the many specialised potting mixes, fertilisers and pots on the market, helping you overcome the local environmental conditions.
Annuals are often heavily used in Garden Competitions.
With seed you can get a lot of plants very cheaply. Seed is the most successful and practical way to grow many of the more robust annuals. For the busy or inexperienced gardener, punnets are generally much easier and faster, especially for some of the more delicate species, and not much more expensive if you only need a few plants anyway.
Many traditional annuals are only suitable for the cooler months of the year here in Qld. Look out for new types, heat and drought tolerant varieties, and perennial or semi-perennial species (even if you only grow them as annuals) for a prolonged display.
Attractive herbs and vegetables can also be incorporated into bedding schemes. Look for interesting growth forms or coloured foliage, in particular.
Large quantities of plants can be raised more cheaply from seed, but requires more time and effort and a certain amount of skill. Seed might be the only way to obtain unusual or heritage varieties (this goes for herbs and vegetable, too). Mail order suppliers are usually the best places to look for unusual varieties. However, many chain stores offer popular lines in packets which are reasonably priced and ideal for beginners. See Seeds and seed raising for more on this topic.
If you require very large quanitities for a special application (e.g. Garden weddings), whether as seedlings or at blooming stage, you may find it worthwhile ordering from a wholesale grower. Be sure to organise your order in plenty of time.
News
Attracting predators with Alyssum
A Washington State University study in which sweet alyssum was grown near apple trees has shown a reduced incidence of wooly apple aphid due to the enhanced predator populations. Six different flowers including marigolds and zinnia were considered for the study, but alyssum was chosen because it attracted the most syrphids (hoverflies), the larvae of which feed on aphids. However, during the study few hoverfly larvae were found. rather, a diverse array of spiders and predactory insects appeared responsible for most of the aphid decline. Protein markers sprayed on the flowers and later identified on predators indicated they had indeed visited the flowers and so were presumably attracted by them. Source: Flower power fights orchard pests (May 2013)
From annual to immortal
By altering a gene, German researchers have been able to prevent flowering in tobacco and expand the lifespan of a plant from about 4 months to "forever". Their oldest plant is now 8 years old. Besides indefinite growth, leaf senescence is also prevented. Applied to other crops that aren't dependent on flowering (e.g. potatoes), the discovery could potentially boost production while eliminating the risk of genetic contamination of the agricultural/natural environment through pollen or seed. Source: Giant tobacco plants that stay young forever (January 2013)
Alyssum gets industrial
"Cleaning Land for Wealth" is a UK research project that aims to rehabilitate contaminated soils while producing useful metallic nanoparticles, with the help of common plants like Alyssum. Properly developed, it's possible that plant "biofactories" will be able to produce particles of the right size and shape to be used in applications like catalytic converters or cancer treatments, without further processing. Source: Flower power to purge poison and produce platinum (November 2012)